Pokemon Beta
Beta is an original idea: something that didn't make it into the final game. This page shows early art work of the Pokemon Games.
Pokemon

This looks like an early picture of Girafarig. It looks like it was gonna have two heads instead of having a tail that looked like a small chain-chomp. (From Mario) It would be very strange if it actually were the final version.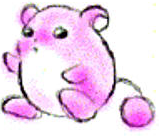 I think this is a pink Marill. This may have been what people thought was a Pikablu. You never know.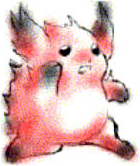 Looks like a Snubbull/Magby/Raichu/Zangoose fushion. Of course that's not possible. Probably an early Magby, or Snubbull.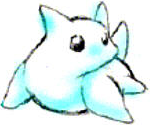 I have absolutely no clue. The only pokemon I can think of when I see this is Togepi. But that wouldn't happen because I don't think that, would end up a Togepi.
Sprites

This shows a very freaky Sharpedo. This didn't make it to the final because they probably didn't wanna scare anyone.


Not much here, but an early Shroomish sprite. No big deal.


This shows a green Wynaut instead of a blue one. It makes more sense to have it blue, because that would mean it changes colour when it evolves.
The World Itself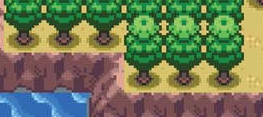 The patterns on the tree's are a little bit different in this pic.

This is a completely different Pokemart. This one has a Red Roof, instead of blue. It also says "Shop", instead of "Mart".
Other

This picture shows both of the gender signs the same colour instead of the female sign being pink.