Pokemon Mystery Dungeon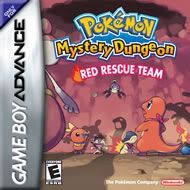 Pokemon Mystery Dungeon is a a very unique game where you are a Pokemon. In this game, you wake up as a Pokemon by your partner, and form a rescue team. You must go into dungeons and rescue pokemon. This game is my next favorite to Diamond/Pearl. It is a lot of fun. I especially enjoyed the final dungeon before you defeate story mode. I liked running into Salamence, & Metagross. A downside of this game is that it only has 386 pokemon. This means no new Fourth Generation Pokemon. This is the only downside though, so you shouldn't skip getting this game.
Oh, and by the way, I ended up being a Mudkip. Take a guess at who my partner is. lol.
Release Dates:
Japan: November 17th 2005
Canada: September 19th 2006
USA: September 18th 2006
Australia: September 28th 2006
UK: November 10th 2006
Rest of Europe: November 10th 2006
Pages
Competetion
Easy Partners
Screenshots
Starters
Legendaries/Bosses
Statues